Prospective Students
Thank you for your interest in the University of Illinois at Chicago! 
Starting your first college application can be intimidating, however, you should not have to do it alone.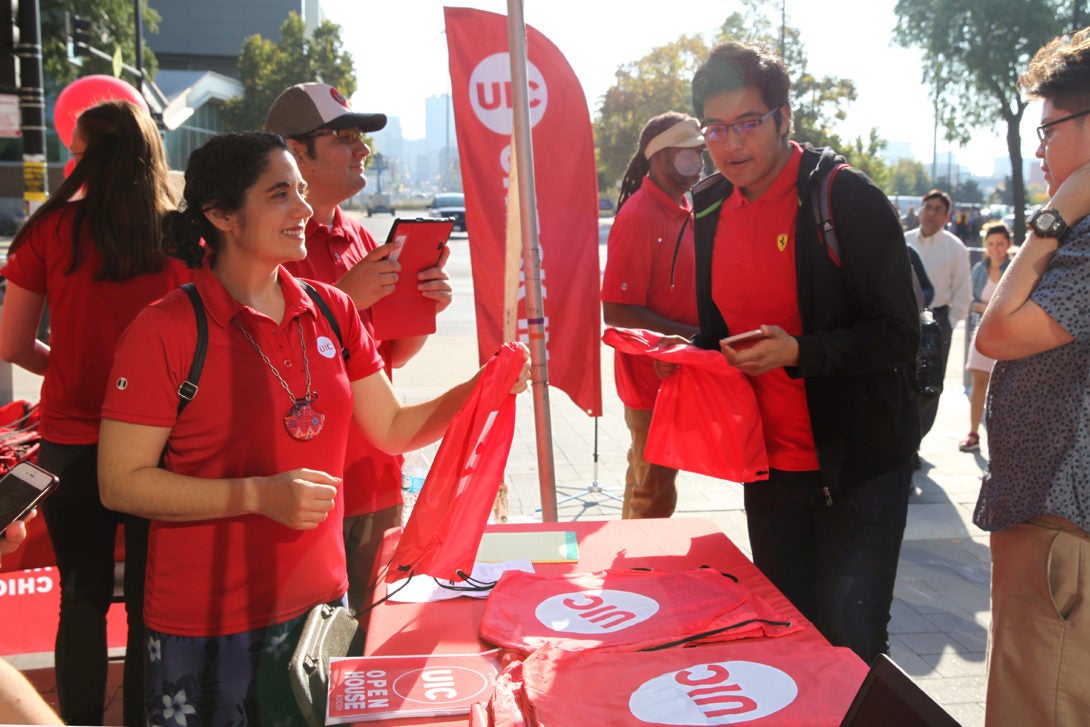 Everyone needs a support network. Connect with your school counselor, advisor, or teacher for educational opportunities. Remember that counselors, school faculty and staff cannot legally disclose any information, including immigration status.
If you are currently a high school undocumented student or high school graduate who have not attended a college or university, you can start planning now!
If you are a high school student graduate who has attended another college or university and received college credit courses since graduating, you can review the transfer guide, college and program requirements, or undergraduate FAQs for more information about the application process.
Have you been accepted to UIC? Congratulations! If you need help funding your education please visit our "Scholarships" page for more information.
Remember to ask for help from your teachers, school counselors, and allies.
PROSPECTIVE STUDENT FAQ's Heading link
We have compiled a list of frequently asked questions to better inform your decision about going to college. If there are questions that are not listed below, please do not hesitate to reach out to us!
ADMISSIONS

| | |
| --- | --- |
| I am undocumented, can I apply to UIC? | Yes, prospective students can apply to all University of Illinois campuses regardless of their immigration status. There is no federal or state law that prohibits undocumented students' admissions to public or private universities in Illinois. All prospective students will be reviewed under the same admissions criteria regardless of status. |
| How do I get started with my application? | To start the process of applying to UIC please visit our undergraduate admissions website or click on the link listed on this page. If you have additional questions, contact Tanya Cabrera, Associate Director for Equity and Inclusion at tcabrera@uic.edu or (312) 355-001 |
| Do I quality for UIC Application Fee Waiver? | In order to be eligible to the Undergraduate and Graduate application waiver, you must meet the income eligibility and summit the form located under resources to the Office of Admissions and/or the Office of Financial Aid. |
| Should I disclose my immigration status on my personal statement or application? | Students have every right to choose whether or not to disclose their immigration status or life circumstances. Any information you share regarding your status is confidential to the fullest extent allowed by law. Do not provide any false information on any UIC application or forms. |
| Am I required to share the SSN that I have obtained through DACA? | UIC does not require any student to summit their Social Security Number. It's against the law to use a SSN that is not your own or false. If you are a DACA student, do not provide your SSN to any application forms. Instead, summit 000-000-000 or leave it black. |
| I've been accepted to UIC, how much is tuition and fees? | Tuition assessment is based upon student level, residency status, curriculum/college and total number of hours enrolled for the term. Undocumented students who meet the criteria for in-state tuition and who have submitted an affidavit form to the office of admission will be assessed with residency status. Tuition and fees are separate from campus housing rates. |
| I have been accepted to UIC. Will I be getting an award letter in the mail? | UIC does not send out an award letter to any student accepted to UIC. |
| What housing options do I have as an undocumented student? | UIC has options for affordable housing for low income and undocumented students. UIC has Campus Housing, however the rate per student can be expensive. Undocumented students can apply to La Casa Student Housing, which has room available at a lower rate. You can also check privately own apartments in the area. If you are experiencing homelessness, visit the Wellness Center at 750 S Halsted St. Suite 238, Student Center East(SCE), (MC 894). |

FINANCIAL AID

| | |
| --- | --- |
| Do I quality for Free Application for Federal Student Aid (FAFSFA)? | Although FAFSFA is used to determine a student's financial-need, undocumented students (including DACA and DREAMers) do not qualify for federal funded grants or scholarships that specify U.S. citizenship. However, some scholarships through UIC SNAP will ask students who do not qualify for FAFSFA, to summit an alternative form, such as in the nursing field. |
| Are undocumented students eligible to receive financial aid? | While undocumented students are not eligible for FAFSA, the state of Illinois offers in-state tuition to Illinois residents regardless of immigration status. To find more information about scholarships and ways to pay for college please visit our "Scholarships" page. |
| Do undocumented students qualify for in-state tuition? | Yes. In 2003, the Illinois state Legislature approved House Bill 60 to allow eligible undocumented students to be considered as "residents" for purposes of higher education, which permits them to pay in-state tuition rates at state colleges and universities. For more information visit our "Scholarships" page. |