Graduate / Professional Students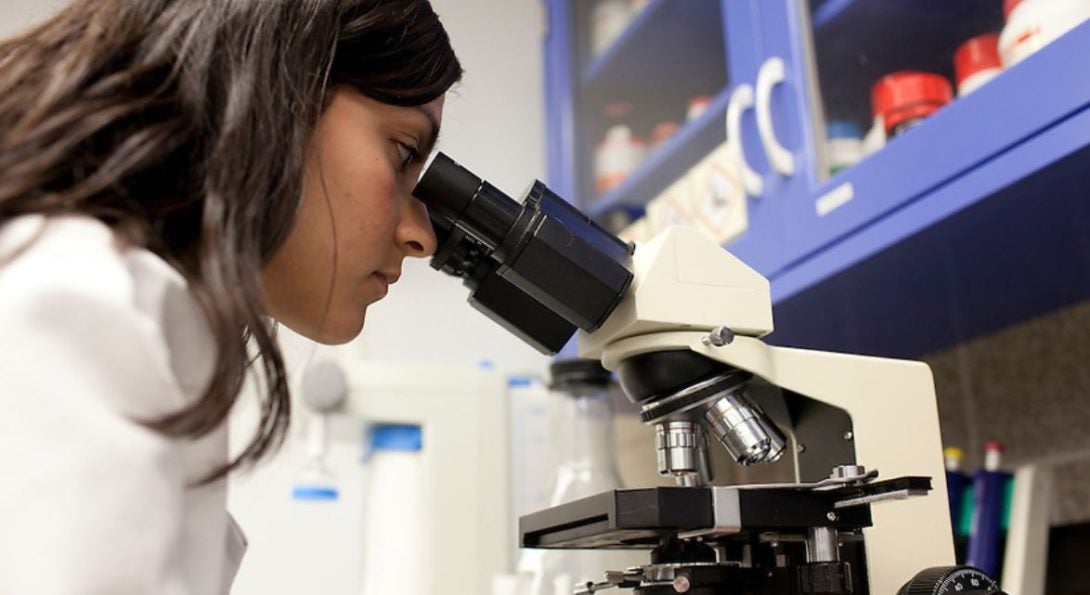 UIC is Chicago's largest university with 28,000 students, 16,000 faculty and staff, 15 colleges and the state's major public medical center.  The Graduate College is made up of faculty members from various disciplinary colleges in the University.  In conjunction with their disciplinary colleges and under the guidelines of the Graduate College, these faculty members offer advanced academic and research programs for highly qualified postbaccalaureate students.  All students admitted to a master's program* or in a doctor of philosophy, doctor of arts, doctor of education or doctor of occupational therapy program at UIC are enrolled in the Graduate College.
*Except the Master of Business Administration, the Master of Engineering, the Master of Public Health, or the Master of Social Work, which are also programs offered at UIC but not administered through the Graduate College. Information on these programs is available through the College of Business, the College of Engineering, the School of Public Health, and the Jane Addams College of Social Work.
PAYING FOR SCHOOL

Information on scholarships and financial aid open to DACAmented and/or undocumented students is available in our "Scholarships" page.  We also advise considering other options available to pay for school.

Payment Plan Program

UIC provides an optional payment plan that allows parents/students to spread payment of anticipated tuition, mandatory fees, room, and board expenses over up to 6 installments for the Fall and Spring semesters. Student Accounts will not be assessed monthly late payment fees while enrolled in the Payment Plan. There are deadlines to enroll in a payment plan the longer you wait the higher your monthly payments will be.

Cost to enroll in the Payment Plan Program:

$40 per semester non-refundable enrollment fee
$30 non-refundable fee if a payment is returned

Note: In order to participate in the payment plan option you have to enroll, it is not automatic!

Graduate Assistantships 

Colleges, graduate programs, administrative offices, and research centers appoint graduate students as teaching (TA), research (RA), or graduate assistants (GA). Students apply for and obtain most assistantships through their graduate programs. The Human Resources Job Board has listings for assistantships that are open to the general graduate student population. Depending on the assistantship, tuition waivers may be available.

emergency

The U and I Care Emergency Fund is made possible through the partnership between the Office of the Dean of Students & Office of Student Financial Aid and Scholarships. The U and I Care Fund provides temporary, short-term financial assistance to currently enrolled students who are unable to meet essential expenses due to a temporary or unexpected hardship. This emergency funding program is designed to offer financial assistance to students in the form of one-time awards. Emergency funding is NOT intended to provide ongoing relief for recurring expenses. Decisions regarding disbursement of funds are made on a case-by-case basis.

Types of Expenses Considered

Overdue rent and utilities (i.e. eviction notice, utility disconnection notice)
Medical, dental, or mental health emergencies
Books, school supplies, or other school-related expenses
Replacement of belongings lost in a fire or natural disaster
Safety-related needs (i.e. changing locks, short-term emergency shelter)
Travel related to the death of an immediate family member

Expenses Generally Not Covered

Tuition and fees
Campus Housing cost
Health insurance
Credit card expenses
Parking tickets and other fines
Costs for entertainment, recreation, and non-emergency travel
Other non-essential expenses (i.e. cable bill, cell phone bill)

WELLNESS

The Wellness Center is the place for your health education and promotion needs! We provide accurate and relevant health and wellness information, educational programs and events, and skill-building activities and workshops to the UIC community. We encourage students, staff, and faculty to make healthy choices that integrate knowledge and understanding with their personal values while maintaining a responsibility to the community.

Please take advantage of the resources available, your wellness is our priority! The following resources available at no cost:

REC CENTER

UIC Campus Recreation offers state-of-the-art facilities focused on providing our university community a complete recreational experience. Registered UIC fee paying students have access to all Campus Recreation Facilities. This includes the Student Recreation Facility, Sport & Fitness Center, and Outdoor Field Complex.

CAMPUSCARE

All students are required to have health insurance and through the registration process students are automatically assessed the charge for coverage.

CampusCare is the provider for UIC.  If you  (student) have your own health insurance you may petition CampusCare to have the charges and coverage waived.  There are rigid deadlines for this, make sure that you visit the CampusCare website to confirm the deadlines to submit your insurance waiver!

CampusCare coverage (if you did not successfully petition to have the coverage waived) begins the first day of classes and lasts until the day before the next term begins.

To use CampusCare students must go to a specified University of Illinois clinic, doctor, or hospital (there may be some exceptions).  Information is available from CampusCare (read what is covered and through which providers; includes information on dental, vision, hearing screening and pharmacy benefits; also provides information on purchasing supplemental coverage when traveling out of the coverage area).